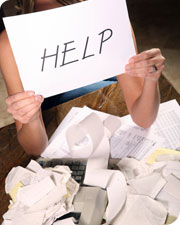 It's tax season. The year is just kicking into gear and already you have to get your small business' financials in order. Unfortunately not all small business tax services are built the same. When you own your own business there is a tendency to reduce cash outflows as much as possible to turn a profit. This inclination has landed more than one small business owner in court in front of our friends in the IRS. Mistakes made by filing your own business taxes range from being ignorant of changing tax law to purposefully skirting the law.
Save Money
Business tax services are not just limited to filling taxes. They can assist you with financial planning decisions. When business owners are busy managing day to day business operations they often let high level business decisions fall by the wayside. As a consequence they may end the year with less profit even though business income may have increased in a certain financial period. A Certified Public Account at your local business tax service can help you better plan and manage your cash-flow to ensure your business achieves its maximum business earning potential.
Reduce Legal Liability with Small Business Tax Services  
The US government understands the struggle that comes with running a small business. They endeavor year after year to either reduce your tax liability or simplify your filling process. They understand that small businesses are the backbone of not only the US economy but the labor market as well. This can get tricky when one is a layman in these important financial matters however, as it is often a time consuming process to keep up with the changing tax code. This is where small business tax services shine as it is their specialty to prepare these fillings, they have a responsibility to keep up with the current local and national tax code.
Business Tax Services Help with Audits
Besides business tax services you can use a regular accountant to do your taxes and save a few bucks on preparation. The issue with this approach is that most individual accountants are more often than not, not certified or CPAs. This could represent an issue if your business is ever faced with an IRS audit. This is a common occurrence, especially for businesses, as their tax fillings are usually highly customized and full of special considerations unlike the majority of personal tax fillings.
Give Howard & Co. business tax services a call today at 941-922-0202 or send us an email for more information on how we can help your company navigate this tax season!